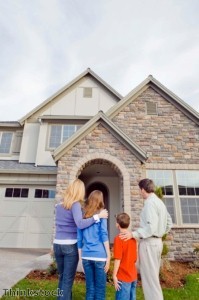 Housing experts say the time may be right for fathers looking to buy a house.
Among the factors working in buyers' favor, MarketWatch.com reports that prices continue to be affordable in many parts of the country.
Since sales have been sluggish, fathers looking to purchase a home for their families may be able to find exactly what they want and negotiate on price as well as other concessions, like closing costs and improvements.
"People who have had for-sale signs in the yard for six months are starting to become in tune with the reality of the situation," Jay Papasan, author of Your First Home told the news provider.
In addition, mortgage rates remain near all-time lows, which means that buyers will end up spending less over the course of their loan.
Although the process of applying for and securing a mortgage may be daunting, experts from Bankrate.com offer buyers a few tips:
1. Use a mortgage calculator to determine how much you can really afford.
2. Monitor mortgage rates and make a move when they're at their lowest.
3. Choose a qualified lender or broker to help guide you through the process.
4. Save up for a down payment.
5. Gather documents, including tax statements, pay stubs and bank statements you'll need.
Financial experts say that lending standards remain tight, so following these steps will help ensure you'll be able to borrow the money you need.