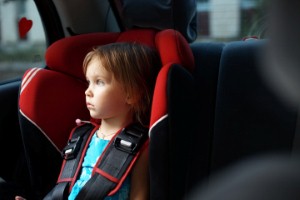 Results of a new study may have parents thinking twice when they strap their young children into car seats. Researchers have found that children as young as 12 months may be able to find their way out of their harness, making them more prone to serious injury.
The study, which was conducted by scientists at Yale's School of Medicine, sheds light on some interesting tidbits, including that almost all children under the age of 3 are capable of wiggling free of restraints. Additionally, it found that boys were more likely than girls to escape, Reuters reports.
"Young children might acquire the motor skills to unbuckle from restraints before developing the cognitive ability to understand the necessity of automotive restraints," co-author of the study Dr. Lilia Reyes said.
Making sure that your child stays in his seat can be difficult, especially while you're driving. Make a few adjustments to ensure that your little one stays in place. Keeping toys in the car is a good start, as your son or daughter will likely be preoccupied with the item, rather than finagling a way out of the restraint. Additionally, provide an incentive for him to stay buckled, such as a stop at his favorite playground on the way home.