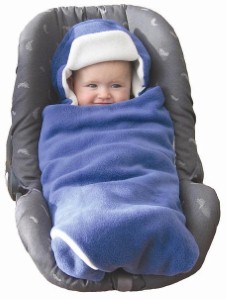 What do you do when your newborn has an accident at a friend's house?
The first time out with a baby can be stressful for new parents, especially when the people they are visiting are still single and childless.
However, with the right amount of preparedness and humor, it'll be easy to get through any unexpected occurrences.
But what if you don't have a spare diaper? First off, breathe. Then get to the bathroom.
The important thing to remember is to clean off your baby first. Use warm water over the sink and be sure to use a soft paper towel to wipe them off. Once dry, you can start being creative with the diapers.
Traditionally, some people have used a t-shirt as a makeshift diaper or an older football jersey. Each are fine as a temporary fix, but your baby in a t-shirt diaper is probably a cue to go home. This is because a t-shirt really isn't a diaper and because your baby, as well as your friends, may have had enough excitement for one night.
This ushers in phase two of the situation: talking to your single friends about what just happened. It's natural for new fathers and mothers to feel a little alienated from their single friends and childless couples who may not have a lot of experience with babies.
In this case, it's important to remember that communication is key and that simply explaining to your friends what happened should be fine. In fact, this may even spark up a conversation about parenting with your friends peppering you with questions. Expect some weird ones.
But in terms of avoiding these types of situations, parents should be prepared whenever they leave the house with their child. Sure, it may seem tedious lugging the large bag filled with extra bottles, clothes, diapers and wipes. But in the end, you'll be thankful you did.