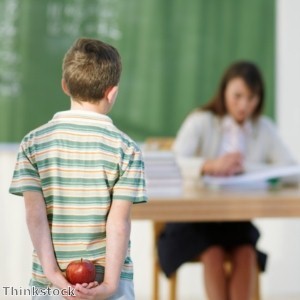 The start of a new school year: Stacks of notebooks full of clean sheets of paper, the smell of freshly sharpened pencils, the feel of new wool sweaters and the pervasive sense that anything is possible.
Even when you're no longer a kid, it's nearly impossible to escape the idea that a fresh start is available to all in the autumn. But, imminent parent-teacher conferences can bring you down. Here's how to handle the first meeting with your kid's new teacher in a way that won't sabotage your child's academic future, embarrass your son or daughter or land you in the dog house.
1. Don't threaten violence. When someone criticizes your child, scanning the room for a makeshift spear while proclaiming that your great-grandfather was a Samurai is an understandable gut reaction. But wait. Stop. Put down the laser pointer and remember that your son or daughter will be spending all day in the room with this person until June. Don't let things come to blows until January, at the earliest.
2. Don't get suckered into volunteering. You're on the spot, we get it. That's why it's imperative to come up with excuses before heading into the conference. It's inevitable that the teacher will ask if you're available to chaperone a field trip to the local zoo or show the kids how to build a campfire. Admitting to your irrational fear of lemurs or lack of basic survival skills now will save you a night spent camping with sugared-up 10-year-olds who insisted they could handle a real ghost story. Cowards.
3. Do show up on time. Right when punctuality matters, something comes up. Your fantasy football draft goes into overtime. You're hitting under par for the first time all season and your buddies want to do the back nine. It doesn't matter – making your kid's teacher wait is just bad form. Unless you're in the zone.
4. Insist that C students rule the world. So far, you made it through high school, college and the work place without ever really applying yourself. There's no reason your son or daughter can't do the same. If your kid's teacher keeps harping on the merits of hard work and perseverance, clue her into the importance of connections and shifting blame.
5. Let your wife do the talking. Show up, look presentable and don't speak. She's got this one.
Everyone dreads parent-teacher conferences, but the meetings offer an opportunity to connect with the person who's shaping your child's malleable young mind. If you don't show up, the teacher could turn them against you. Plus, maybe you can talk you wife into buying you some back-to-school clothes.