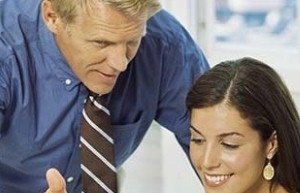 The story of the New York air traffic controller who was suspended and faces the possibility of losing his job after bringing his kids to work and allowing them to direct planes at the busy JFK Airport may have many parents thinking about whether or not it's appropriate to bring their children to work.
Experts say parents should consider their work environment before bringing their kids along. If they work in a potentially dangerous place, like a manufacturing facility or chemical plant, or if their work requires their 100 percent full attention at all times kids shouldn't come along. An office that is extremely quiet and not at all kid-friendly probably isn't a good place to bring young children either.
Whether it's a special treat or your only option when childcare falls through, working fathers and mothers should check with their boss before arriving with kids in tow. It may also be a good idea to contact the Human Resources department to see if there are any company policies that restrict all-day visitors.
As with most parenting challenges, being prepared for having a child at your workplace all day takes some pre-planning. Make sure you have some snacks and activities that will keep him or her happy and busy while you're working.
And, if the visit is not going well or if your bosses or co-workers express frustration about the situation, be prepared to cut the day short.