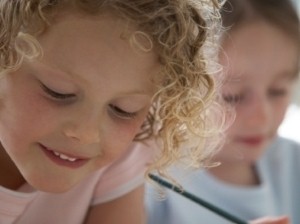 According to the American Academy of Pediatrics (AAP), each year millions of school-aged children in the U.S. get head lice.
While a case of head lice may cause fathers to be a bit intimidated, the AAP recently released a report that could change the way many view an outbreak.
"Head lice are not a health hazard or a sign of poor hygiene and, in contrast to body lice, are not responsible for the spread of any disease," the report states. "No healthy child should be excluded from or miss school because of head lice, and no-nit policies for return to school should be abandoned."
Fathers should know that the symptoms of a head lice infestation include an itchy scalp, red bumps on the head and neck, seeing live lice moving on the head and seeing nits (lice eggs) attached to the hair.
Getting rid of lice may take some effort. The AAP recommends an initial treatment of a 1 percent permethrin lotion such as Nix, with a second application 7 10 days after the first. Herbal remedies, like tea tree oil, are believed to be effective but have not been proven so.
Lice expert Jewel Hendrix told WCSC-TV that all bed linens, towels, clothing and blankets should be washed in hot water and dried in the dryer.
Items that can't be washed can be put in the dryer on the hottest setting for at least 30 minutes, put in the freezer overnight, or sealed in a trash bag for one week, said Hendrix.
Pediatricians can help with diagnosis, treatment choices and management of difficult cases as well.