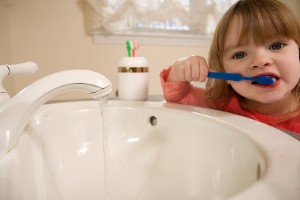 It's known that dental health is important to overall health and that poor dental hygiene could result in serious problems in the long run. Regardless of your own feelings about going to the dentist, there are ways that parents can prepare their kids for a dental appointment and set them up for a lifetime of positive experiences in the dentist's chair.
Experts suggest that parents prepare their kids for a trip to the dentist by talking about what's going to happen ahead of time. Small children will most likely just have their teeth counted and brushed in an effort to establish a feeling of comfort and trust at the office during the first few visits. Fathers and mothers may consider role-playing what will happen during their appointment. They should also avoid passing along their negative experiences and using words that will make kids panic like "hurt" or "drill."
Bringing along a pair of sunglasses for your child to wear or a favorite teddy bear to hold while in the chair may help them to feel more secure. Promising a special treat or activity together after the appointment may also help ease fears.
Many family dental practices are well-prepared for dealing with apprehensive kids (and their parents!). Pediatric dentists are especially skilled at working with children and making their experiences positive.
Remember that if the appointment is a nightmare, try again. It's amazing what a little growing up can do!