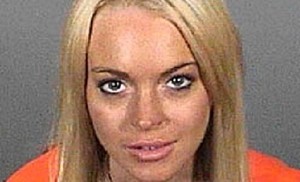 Daughters are hard. You say the wrong thing, they cry. You lay down the law, they scream. You tell them they can't borrow the car, you get the cold shoulder for a month. Some days it feels like you're doing it all wrong.
On those days, we suggest you consider Michael Lohan. You'll feel better immediately.
His daughter has been in and out of rehab, jail and dysfunctional relationships, but he doesn't let her fragile state stop him from milking his Titian-haired cash cow for all she's worth.
Case in point: Her diary. Anyone who has a daughter is likely to know a thing or two about diaries. Like the fact that they are never to be read. Ever. Under penalty of death.
And, let's face it – you probably don't want to know all the juicy details of your daughter's interior life (just have your wife peruse the clandestine pages and relay an edited version back to you).
However, it seems that when Lohan stumbled across little Lindsay's diary, his first thought was something like "Jackpot!"
According to HollyScoop.com, Lohan sent a few pages of her personal journal to an undisclosed news outlet, but he told the website, "I never offered anything for sale."
The pages in question refer to the medications that the far-from-stable Lindsay was allegedly prescribed by her doctors.
He claims "they directly talk about how she said the doctors have her on the wrong medication and she mentioned how she wished the doctors would get the medication right," the website reports.
The freshly sprung jail bird, who graced the cover of this month's issue of Vanity Fair, responded by sending her father a cease and desist letter in which she calls his actions "shameful," RadarOnline.com reports.
Lohan still maintains that he never intended to profit from leaking the journal entries.
So, he just wanted the world to read his daughters distraught ramblings regarding her mental health problems – for free.
And all you did was tell your daughter that you weren't paying for a second pair of $200 jeans. We bet you don't feel so bad now, right?