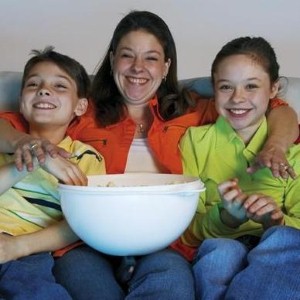 Many fathers and mothers have at least a few DVDs for their toddler or preschooler to watch when they need some down time or when their kids simply want to relax for a few minutes. However, a recent study of nearly 60 DVDs designed for kids under the age of 3 found that most don't offer any meaningful, understandable educational value for young children. But there are some things fathers can look for when choosing a DVD for their own kids or as a gift for someone else's kids.
According to Reuters, experts say singing and rhyming is the best way to teach kids, so parents should look for videos that do a lot of it. Slow camera zooms from a whole object to the part of the object that is being focused on is preferable to fast camera moves or switching frames since toddlers may be confused by them. And research has shown that kids respond to things being narrated by other kids, rather than adults.
While most parents don't have the luxury of previewing DVDs they buy for their kids, they can be assured that other parents have already seen them and reviewed them. Check out parent reviews online before buying or borrow a movie from a friend or the library before committing to buying it.
Remember that that American Academy of Pediatrics says kids under the age of 2 should not watch any television and kids over two should be limited to two hours each day.