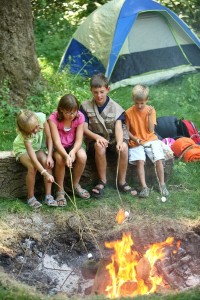 Some of the best summer memories you ever had where from the days you spent whiling away the hours at camp. While some might use summer camp to get their kids out of the house for a week, most dads recognize that it can teach kids valuable life lessons that they'll remember for years to come. With the end of the school year fast approaching it's likely that you're turning your attention to finding the right summer camp.
According to a study launched by the ACA, around 96 percent of children said going to camp helped them make new friends, and 92 percent said it helped them feel good about themselves. But how do you choose which camp is best for your son or daughter? Do your research. Make some calls to various camps, check out websites online and consult with friends for their recommendations.
For a summer that's both constructive and enjoyable for your child, search for camps that cater to their interests and skills – there are camps that specialize in activities such as running, acting or math.
Once you've narrowed it down to your top pick, check out the camp's qualifications. First and foremost, make sure that it's accredited by the American Camp Association (ACA), and be sure to visit the camp ahead of time. There's no way to be certain the camp is right for your child if you haven't seen it firsthand.