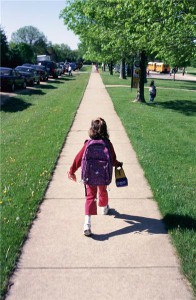 Children across the U.S. may be exposed to toxic chemicals that pollute the air outside their local schools, according to a new report by USA Today.
An eight-month study into the air quality surrounding 128,000 schools nationwide may yield some troubling findings for any father who focuses his parenting skills on protecting his children from dangerous pollutants.
As a point of reference, the newspaper cites the case of a suburban Cincinnati elementary school which was closed after its air was found to contain carcinogens that were 50 times higher than the acceptable standard due to a nearby plastics factory.
The publications states that its investigation found as many as 435 schools that could have air quality that is even worse than the one that closed.
Commenting on the findings, the Center for Health, Environment and Justice called for school siting guidelines – defining where schools may be located in relation to toxic contamination sites – to be made available to local school boards.
The group said that the Environmental Protection Agency has not taken any steps to create such guidelines, despite being instructed to do so by the Bush administration.
"Schools must be a safe place for children to learn and play, not a place that endangers their health and ability to learn," commented Lois Gibbs of the CHEJ.