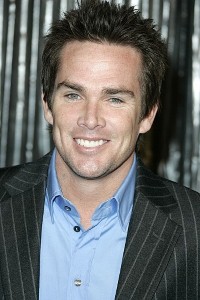 He's only been a father for about a week, and Sugar Ray frontman Mark McGrath is already a doting dad of twins.
McGrath and fiancée, Carin Kingsland, recently welcomed son Lydon Edward and daughter Hartley Grace.
"I would have been happy if God had two Labradors come out of her," McGrath joked to People Magazine. "But we're so lucky – I can't wait to experience the wonders of a boy and a girl."
The rocker also said he's looking forward to watching the twins grow and see their personalities develop.
"I can't wait to hear their opinions on things. I want to take my boy to a Laker game and I want to see my daughter dance in her tutu. There are all these great things that I am just visualizing."
The inspiration for the kids' names came from McGrath's Irish heritage. He says their first names are Irish surnames that the couple liked and their middle names have special meaning to them – Edward is McGrath's father's name and McGrath translates to "grace" in celtic.
McGrath will host Fox's "Don't Forget the Lyrics!" this fall and will tour with Sugar Ray in the summer.