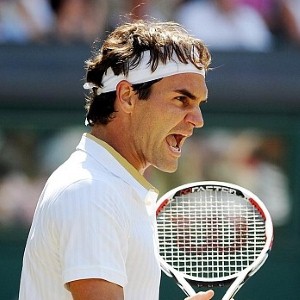 Though Roger Federer, who is now the number one tennis player in the world, and his wife announced they were expecting earlier this year, they never revealed to the press they might have twins.
The 27-year-old father and his 31-year-old wife Mirka Vavrinec Federer gave birth to two daughters on Thursday, according to the tennis champ's website. Daughters Charlene Riva Federer and Myla Rose Federer arrived late and were born in Switzerland.
"This is the greatest day of our lives," Roger wrote. "Mirka, Myla and Charlene are all healthy and doing very well."
The initial announcement of the couple expecting was made in March with Roger again using his website to break the news, saying he was "so happy to be starting a family" with his wife, who is a former tennis pro.
"We love children and we are looking forward to being parents for the first time," Roger wrote at the time.
This is apparently adding another great moment to the athlete's already exciting year. Earlier this month the tennis pro beat Andy Roddick in the Wimbledon final for his 15th grand slam title, which surpassed the previous record held by Pete Sampras.