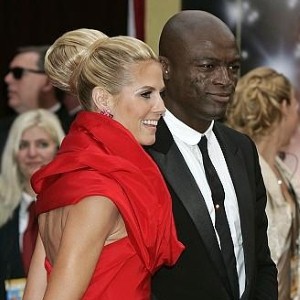 Most men married to a supermodel may echo the sentiments of singer Seal, who says that he's living the "perfect life." In a recent interview with the British newspaper Mirror, he says he considers himself lucky to have a life together with wife Heidi Klum.
"The luck comes in the fact that Heidi and I have healthy children and we are relatively healthy, too," he said.
The famous couple is parents to daughter Leni, 5 ½ years old, sons Henry, 4, and Johan, 3. They also recently welcomed daughter Lou Sulola 9 weeks ago. He admits that he was nervous when he learned they were expecting their fourth child but the anxiety was quickly dissipated.
"Lou turned up and the first time I held her she looked up at me with this frown, which she's definitely got from me, and I fell in love at that point. It was really emotional this time because we knew this was the last time but four kids is enough," he said.
The singer has been married to Klum for nearly five years. She recently filed a petition to legally change her last name to Samuel, which is his last name. He recently completed the process of legally adopting the couple's first child, Leni.