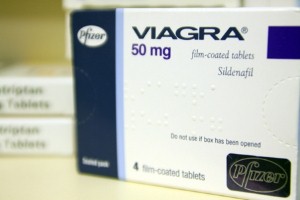 Listen up, guys! A new study has found that using Viagra and other drugs such as Cialis and Levitra prescribed to treat erectile dysfunction (ED) and spice up your sex life could actually harm your hearing.
The New York Daily News reports that a recent study found that men who take these medications are twice as likely to report hearing loss as men who don't take them.
Researchers add that more research is needed to prove a cause-effect relationship between taking these PDE-5i drugs and hearing loss. However, the study focused on older men, who are already at a higher risk for hearing problems.
"Though there are limitations to this study, it is prudent that patients using these medications be warned about the signs and symptoms of hearing impairment and be encouraged to seek immediate medical attention to potentially forestall permanent damage," said study researcher Gerald McGwin.
McGwin also said that the way these drugs work in ED patients – by their ability to increase blood flow to certain tissues in the body – may be to blame for hearing problems.
"They may have a similar effect on similar tissues in the ear, where an increase of blood flow could potentially cause damage leading to hearing loss," he said.
The U.S. Food and Drug Administration recommends that anyone who experiences hearing loss while using ED medications should discontinue their use and contact a doctor.