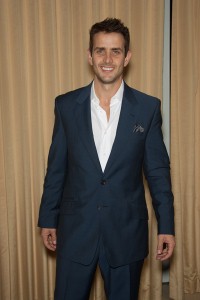 Singer and New Kids on the Block star Joey McIntyre recently opened up to People magazine about his youngest son being diagnosed with severe hearing loss.
"You go from, 'Oh my God' – fearing that someday my son might be walking into the street and I'm calling after him and he's not going to hear me – to 'It's going to be okay' to 'It's going to be amazing,'" the pop star told the magazine. "Rhys' hearing loss is part of who he is. His life is going to be as special as Griffin's. There's just work involved."
McIntyre and his wife, Barrett, says the diagnosis came soon after Rhys was born in December. Since then, the family has been proactive in Rhys' care. The 3-month old is already in speech therapy and has been fitted with hearing aids in both ears. He can even recognize his parents' voices.
"His hearing aids make a huge difference. The first time he responded to those sounds, Mom and Dad had tears in their eyes," McIntyre said.
The singer says they're remaining optimistic about Rhys' long-term diagnosis.
"He'll be able to come to one of my shows and take it in in his own way."
The couple also has a 2-year old son, Griffin. McIntyre recently released his fifth solo album and will hit the road to tour with the New Kids in May.