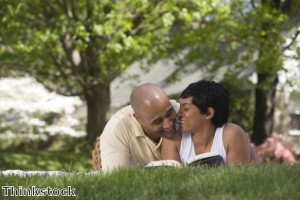 There's good news for men looking for easy ways to keep their wives and girlfriends happy in their relationships. It turns out going the extra mile to be thoughtful may score you some points in the bedroom and in other areas of the relationship as well.
"Feelings of gratitude and generosity are helpful in solidifying our relationships with people we care about, and benefit to the one giving as well as the one on the receiving end," said the study's lead author Dr. Sara Algoe.
Researchers at the University of North Carolina at Chapel Hill studied more than 65 couples and found that everyday gratitude serves an important relationship maintenance mechanism in close relationships, acting as a booster shot to the relationship.
Events such as one partner planning a celebratory meal when the other partner gets a promotion, taking the children to the zoo so the other partner can have some quiet time, or stopping to pick up the other partner's favorite coffee drink are each examples of gratuitous behavior that could strengthen romantic relationships, if the recipient feels grateful in response.
"Gratitude triggers a cascade of responses within the person who feels it in that very moment, changing the way the person views the generous benefactor, as well as motivations toward the benefactor. This is especially true when a person shows that they care about the partner's needs and preferences," said Dr. Algoe.