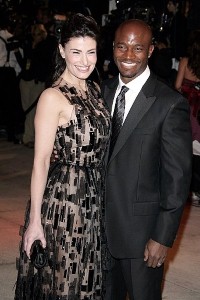 Actor Taye Diggs is apparently still basking in the glow of being a first-time dad.
During the American Cancer Society's Blow Out Cancer event in Beverly Hills, the 38-year-old actor spoke to People magazine about the birth of his son Walker Nathaniel and how much he admires his wife Idina Menzel.
"I have a newfound respect and admiration that borders on worship of my wife," Diggs said. "Just to see her turn into a mother overnight is amazing."
As for his son, Diggs admits that whenever he has to leave the house for work, he's always anxious to come home.
"It's been amazing just to come home to that little dude," Diggs said. "Every time I leave the house, it just makes me want to come back even more. It's just a great prize waiting for me."
It also appears that Diggs' costars on ABC's Private Practice have seen the actor's attitude change, with some suggesting he will be natural at parenting.
Tim Daly, who is a father of two, told the magazine that Diggs' "whole demeanor changed after his baby was born" and that "Taye's going to be a great father."