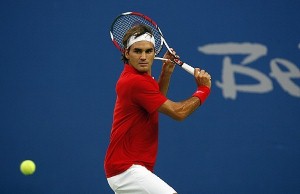 First-time dad and Australian Open champion Roger Federer says his identical twin daughters have had a positive effect on his play.
"Having kids and being a father now and being married enhances everything," Federer told ESPN. "I'm such a happy person today to see how well everything is working out for me. It just makes me extremely happy, extremely relaxed and it allows me to play good tennis, and I couldn't ask for more."
The 28-year old tennis player has now won 15 Grand Slam singles titles, but his most recent win is the first since 6-month old daughters Charlene Riva and Myla Rose were born.
Federer celebrated his win in Melbourne with close friends and champagne until sunrise. When he returned to his hotel room, however, baby Myla was awake, which gave the doting dad and his little girl some quality bonding time.
"She couldn't care less, but I still felt it was a special moment to hold her in my hands, in my arm after what happened, and it was nice," he said.
Federer also tells ESPN that he has yet to spend a night away from his daughters since he and his wife, Mirka, welcomed them in July.
"I'm excited about life, and there is not only tennis," he said.