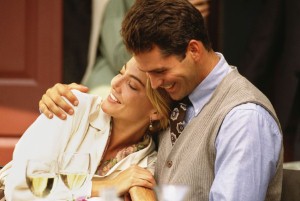 You know the saying, "women are from Mars, men are from Venus," right? Basically, any married man knows that this means that women just think differently than men.
With that said, learning how to talk to and answer your wife is one of the keys to a long, healthy marriage. Here are some things you should never say to your dearly beloved. Trust me, if you've ever muttered any of these words, you'll know better next time!
"What happened to your hair?"
Hair is apparently a very sensitive issue for many women and implying that something is wrong with it is a definite no-no. Yes, you can comment that her hair looks nice but only without implying that it hasn't looked so great in the past week, month or year.
Also, asking how much she spent on that haircut or color job isn't advisable either. Just accept the fact that she will spend much, much more on her hair than you ever will on yours.
"You know who's really pretty? Your friend, Susie."
You may think that one or several of your wife's friends are attractive. Don't ever say this out loud. If she asks you whether she looks as good, better or worse than any other female your immediate response should be something like this, "I didn't notice her. You're the most beautiful woman in the world."
"When exactly is our anniversary?"
It is your job as a husband to remember your anniversary. If you let this day pass without a simple mention of how your wedding day was the happiest day of your life up to that point you will pay for it for at least a year. Even if you redeem yourself the next time around, she'll never let you forget it.
Spend the $2 and buy a nice card. Throw in some flowers and a dinner out and you'll be a hero.
By the way, you're also supposed to remember her birthday and your children's birthdays too.
"Yes, those jeans do make you look a little fat."
Every woman, regardless of how skinny or fat she is, has asked this of her significant other at some point. Even if she looks like a sausage in those jeans, don't say it. A more appropriate answer would be along the line of, "Fat? How could you ever look fat? You're as skinny and beautiful as the day I met you."
"Wow, this house is a mess."
It happens, especially if you have children. And, if the house is a mess and you mention it without actually doing something about it you're doomed. Just start picking up toys and keep your opinions to yourself.
Remember that marriage is hard work. It has its ups and downs but can be wonderful most of the time. Avoiding these rookie mistakes will make yours exponentially happier!