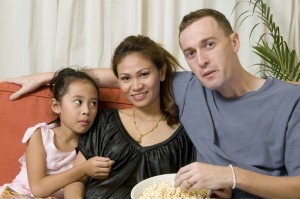 Spring can be a great time for dads and their kids to get out and enjoy the nice weather. But unfortunately, Mother Nature can be especially unpredictable, and April showers can put a damper on any outdoor plans. A rainy day movie can come to the rescue – but choose wisely – there are a large number of terrible kids movies out there that will leave you and yours more dismayed than entertained.
With that in mind here are the three worst kids movies to watch on a rainy day.
1. Toys. Kids love toys, so why wouldn't they like a movie about them? Well first of all, it's one of Robin Williams worst films – and that's even considering Bicentennial Man. It's meandering story focuses more on corporate struggle than childlike play things.
2. Antz. It may have received critical praise, but for film supposedly meant for kids it doesn't seem to work. Not only does Woody Allen (an actor beloved more by middle-aged single men than children) voice the main character, but its existential themes will make kids bored, sad and cranky within five minutes.
3. The Hunchback of Notre Dame. Definitely not some of Disney's best work. Much like Antz, this movie delves into some mature material. However this one does so under the guise of lighthearted fun backed by some out-of-place musical numbers. You'd be better off just popping in Mulan.