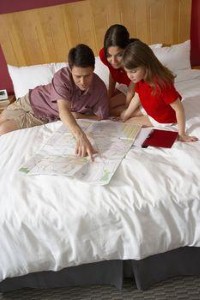 Now that spring is officially here, spring vacation is right around the corner for many kids and their families. While planning a trip may be cost-prohibitive during these "peak" travel times, there are ways to cut down on costs to ensure the entire family enjoys their time off from work or school.
Taking advantage of last-minute travel deals via websites like LastMinuteTravel.com, VacationsToGo.com and CheapCaribbean.com as well as on other travel websites like Orbitz.com, Travelocity.com, Expedia.com and CheapTickets.com can help families stretch their vacation budgets.
Taking a "staycation" is another way to make the most of some time off without breaking the bank. This means staying closer to home to cut down on travel costs. Many hotels in cities and towns across the country offer discounted rates during traditional school vacation weeks to attract families looking for some fun.
Travelling to a nearby city – even one you've explored many times – can be even more exciting if an overnight stay is involved. Make the most of it by taking advantage of the hotel's amenities and planning an in-room family movie or game night.
Camping is also a great way to save on a vacation, as it provides families with an affordable way to travel. Invest in the necessary gear now for years of family fun, or borrow a friend's to cut costs even further.