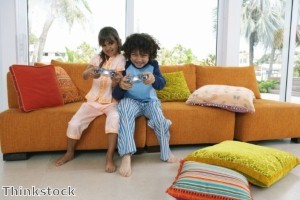 It's that time of year again. Your kids are no doubt talking up their most-wanted video games in an effort to ensure they'll be a part of their holiday loot.
While dads must admit that today's video games are so technologically-advanced compared to the prehistoric ones that many of us grew up with, they also know that the games are not cheap.
The good news is that there are several ways to cut costs when it comes to buying games for your Xbox, Wii or Playstation.
1. Buy used. Bargains can be found in video game stores as well as online on sites such as eBay and Craigslist.
2. Rent instead. Online services like GameFly, Gottaplay and Gamerang allow gamers to borrow games and then return them at a later date. You can often rent several games for a fraction of the cost of buying them new.
3. Be a smart shopper. Look for sales in stores and online, especially around the holidays. Going out of business sales offer a great way for individuals to save big on video games as well.
4. Wait it out. Games will significantly drop in price after being on the market for a year. Buy last year's hot game this year to save money and wait it out before buying newer games.
According to MSN.com, individuals looking for deals on video games may want to consider checking out the website CheapAssGamer.com.
Founder David Abrams says that the best deals may be found online starting Thanksgiving weekend.
"Amazon had the best video game deals last holiday season, and I would imagine they will repeat this year," Abrams told the news provider. "Find out what holiday gifts you need to buy before Black Friday so you are ready to go."