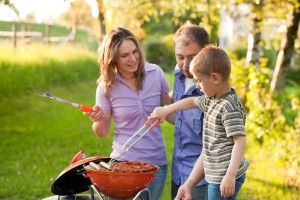 The summer is rapidly approaching and before your know it your kids will be out of school. While you may be excited to spend more time with them, you might also be at a loss for ways to keep them entertained. Although staying in and enjoying the comfort of the air conditioner can be relaxing, not getting out and enjoying the weather would be a waste. After all, who knows how long until they don't want to hang out with you?
Your kid will be at the top of the class come September if you make summertime activities as educational as they are fun and engaging.
1. Start a garden. Encouraging a green thumb in your offspring has multiple benefits for both you. They get to learn a little about photosynthesis, geology and agriculture, as well as enjoy plenty of exercise and vitamin D. Plus, everyone gets to chow down on juicy tomatoes and fresh cucumbers after the harvest.
2. Visit a historic state park. If there is a historic state park in your town or city, they typically make for affordable and fun day trips. Many offer information on the growth of the area and are typically well-maintained and perfect for picnics, throwing a ball around or catching some sun. Be sure to check in on any guided tours that might be available before you head over.
3. Begin a star-watching project. Pick out a few stars that are sure to be visible from your home for the duration of the summer months, and learn about them together. Fun ways to plot stars' progress across the night skies include star charts or time-lapse photography projects. When September rolls around, your kids will have their materials as keepsakes and be able to school their peers in earth science class.