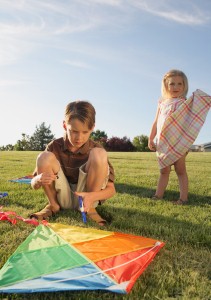 Being a parent to a toddler can certainly be a struggle, especially when he isn't cooperating. Whether it is an aversion to buckling his seatbelt or a refusal to leave the toy store, a tantrum may be waiting just around the corner. However, according to Parenting.org, there are several ways that moms and dads can put a stop to the screaming right away.
1. Bribes. Though it may not be the best way to get things done in the adult world, bribing your son or daughter can be effective. Telling them that you'll reward them with candy or another prize will make them more apt to behave.
2. Don't give them a chance to say no. If your child is refusing to do a necessary task like brushing their teeth, the website suggests not giving them an opening to refuse by saying something along the lines of "ready to brush your teeth?"
3. Fruits instead of veggies. Most young kids probably aren't going to be too excited to eat broccoli or Brussels sprouts, so the news source suggests avoiding a food-related tantrum by substituting fruits high in vitamin A and C instead.