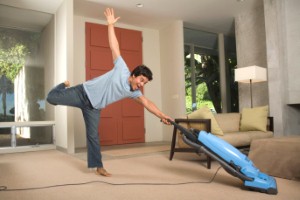 Spring may be the start of baseball and golf but unfortunately it also marks the beginning of cleaning season. For dads, this means having to suffer the slings and arrows of constant nagging, following orders and rubber gloves when all they really want to do is hit the links.
However, all is not lost. With some creative maneuvering you can get out of scrubbing the bathroom tiles, and enjoy a day of well-deserved me time (whatever that entails) – here's how.
1. Butter her up. Flowers, massage, jewelry – it doesn't really matter. She'll likely be so taken aback by your nice gesture that she may look the other way when you slink out the door and mysteriously disappear once the rubber gloves come out.
2. Give her a guilt trip. You've been working 60 hour weeks and never see any of your friends anymore, is it really fair is she makes you clean out the garage on your one day off? Lay it on thick.
3. Fake an emergency dentist appointment. What? It's a Sunday? Oh, well say he just really needs to fill this cavity today or all your teeth will fall out.