Check out the digital edition of New York Family magazine's June issue!
Here are some highlights: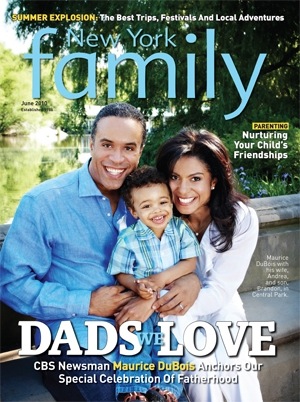 Channeling Dad: CBS 2 News Anchor Maurice DuBois talks about parenthood, breaking the news and balancing it all.
Dads We Love: From a beloved children's author to the Chairman of the NYC Housing Authority, we celebrate an inspiring group of dads.
Big Summer Fun Guide: Our guide to outdoor fun in the city; family-friendly festivals in the Northeast and beyond; tourist attractions for non-tourists; essential summer gear and more.
Healthy Dad, Happy Family: Tips for men on curbing stress, exercising with yoga and eating well.
Father's Day Gift Guide: Inspired Father's Day gift ideas, from gizmos to gadgets to grills.
Moving Beyond Mr. Mom: Founded by at-home dad Lance Somerfeld, the NYC Dads Group helps local fathers find something they've been sorely missing: each other.
Father Figures: An interview with Bruce Feiler, who enlisted six of his friends to serve as dads to hisdaughters when he was diagnosed with cancer.
Playing It Safe: Advice from childproofing experts on making your home a haven.
Growing Up: Author Elizabeth Hartley-Brewer on the role parents play in nurturing children's friendships.
Adults Only: Journalist and mom Lori Gottlieb examines what's important in a partner in a controversial new book.
Buzzworthy: Organic baby food delivered to your door; chic and summery nursing covers; how to have a successful lemonade stand and more.