There's a lot to like in this book review of
Cinderella Ate My Daughter (Peggy Orenstein) by Annie Murphy Hall in the New York Times. But the best part unquestionably is the answer to riddle of why little girls go through a pink phase. To many urban moms, especially, this is the first evidence of a taste gulf between mom and daughter, as little girls demand to be dressed up on anything that bears the tint of a well-worn piece of bubble gum.
Orenstein finds one such enlightening explanation in developmental psychology research showing that until as late as age 7, children are convinced that external signs — clothing, hairstyle, favorite color, choice of toys — determine one's sex. "It makes sense, then, that to ensure you will stay the sex you were born you'd adhere rigidly to the rules as you see them and hope for the best," she writes. "That's why 4-year-olds, who are in what is called 'the inflexible stage,' become the self-­appointed chiefs of the gender police. Suddenly the magnetic lure of the Disney Princesses became more clear to me: developmentally speaking, they were genius, dovetailing with the precise moment that girls need to prove they are girls, when they will latch on to the most exaggerated images their culture offers in order to stridently shore up their femininity." For a preschool girl, a Cinderella dress is nothing less than an existential insurance policy, a crinolined bulwark to fortify a still-shaky sense of identity.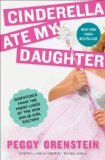 When both of my kids, a boy and a girl, were this age, I would ask them, "Are you a boy or a girl?"
"Silly," the girl would reply. "Of course, I'm a girl." I would ask, "How do you know?" They both never mentioned any physical evidence; just "I just know." My son never went through a "blue period" so we'll never know if we was struggling with these identity issues in his own way.
The book itself is about how Disney and the kids industry, and even the child pageant capitalize on this insight. The book author, Peggy Orenstein, traveled to the annual Toy Fair to see for herself. I'm on a plane right now headed for Toy Fair 2011, and I'll have her book on my mind as I enter, I'm sure, a sea of pink in some sections.
The review itself is worth a read.