What a difference a generation makes. Twenty years ago, the home stereo was usually an area dominated by the man of the house. Now, women, especially blogging moms know as much about HTML, APIs, and JPGs as the guys. New toys for adults like internet-ready TV sets and iPads are what moms always were looking for in technology; ways to actually make your life simpler and easier.
Here are a few hot new products that mom will quickly see the value of and available now in time for Mothers Day.
1. The iPad 2 – well, sorry. Unless, you want to camp out at the Apple store every day until you're lucky enough to get one of the ten delivered that day, it's almost too late to order one. Apple is still 1-2 weeks out, a condition not helped by the Japanese tsunami. If you live in a major metro area, call or visit the Apple store to get the lowdown on how to get one in their daily shipments. I know from experience that for a very special mom, you can get in line at 6:30, get a reservation ticket, and come back to get your pick of iPads. Handy if you really really must have this for mom's day.
2.These CrossFade LPs are one hot set of 'phones in a sexy package. All black with chrome sides and a red velvet-lined case, these headphones shout that you know what you're doing. These are big honking earphones that completely cover the ear, perfect when you want to bliss out, or at least tune out your daughter's violin practice. At $199, you'd expect good sound and they deliver. But what we really like is replaceable (included) cable which includes microphone and remote, compatible with iPad, iPhone 3GS and latest iPod (though not for my old iPhone 3G sadly). They are still lightweight and super-comfortable.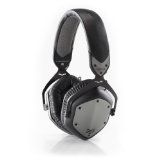 3. For the mom who has bouts of carpal tunnel, or who just needs a new mouse, this is a nice touch. The Whirl Mini is small in the hand, but moves easily on a desk surface. A scroll wheel makes it super easy to use, but what sets this mouse apart is the way it pivots under your hand so you find the best, most natural position for your hand. The only drawback we found was that it uses a USB plugin for its wireless capabilities (rather than bluetooth), eating up one of our precious USB laptop ports.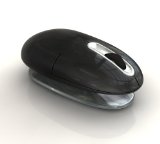 You might want to pair this with the AViiQ portable laptop stand. At only 5.5 ounces and 1/4″ thick when stowed, this angled laptop stand really can go anywhere. These two items aren't the sexiest thing on the block, but they do say you care.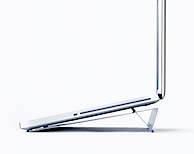 4. Simple, simple gift, but sure to be appreciated by anyone with an iPhone, the Scosche charging cable is a tiny fold-up cord that is key size so it's always around when you need it, which is all the time if you use the phone's functions at all. You can get sillier keychains for mom, but this is one she'll really use if she has an iPhone. It folds up nice and neat, a tad larger than the black rubber end of a car key.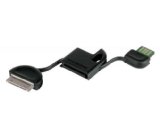 5. For the dual iPhone/iPad user, mom will love the sleekness and simplicity of the XtremeMac dual charging dock. It holds either iPhone and iPod or iPhone/iPod and iPad and holds them straight up, decreasing desk clutter and saving precious seconds for docking. And you know your device is charging thanks to two glowing LEDs even if you missed the distinctive chime on the iPhone.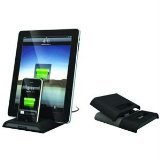 We've tested the XtremeMac dual charging station on iPad 1 and iPad 2, and it docks beautifully with both. However, the dock works best for an unprotected iPad out of the sleeve in all it's naked glory. My iPad 1 uses a notebook-style folder as a case and I'd have to take it out to use the charging dock which really isn't practical. On the other hand, the lucky dog with the iPad 2, otherwise known as my wife, uses the new iPad folding cover. In tests, I found that you can put the iPad 2 with cover into the dock IF you push the over down about 1/8 of an inch. It's not hard to do and virtually indetectable once on, but it is an extra step.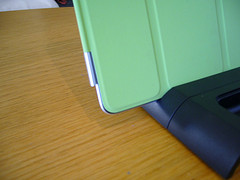 Note that this charger costs about about $100 on Amazon and doesn't do anything else other than sit there and charge. It will not sync, but syncing is now overrated since MobileMe takes care of address and datebook syncing. Most of the time, you don't want to hassle with the interruption of a sync (usually stopping a movie or other app), and just get on with the charging. The XtremeMac dual charger does just that with two Apple devices and does so elegantly.
Review Policy: The featured product for this review was provided to us, at no cost, by the manufacturer or representing PR agency for the sole purpose of product testing. We do not accept monetary compensation for reviewing or writing about products. We only review products that we have personally tested and used in our own homes, and all opinions expressed are our own.