Here are a few new ideas for dads who just got an iPad or have one coming.
1.Handstand iPad holder – This isn't really a stand, though it will allow you to prop up the iPad at about a 15 degree angle. It's really a way for dad to hold his iPad and feel confident he's not going to lose it. Perfect for the dad on the go, who carries the iPad without a case, or uses the iPad to take notes while walking in an office situation. Myself, I find it indispensable when I'm at a trade show or conference and need my right hand free to shake hands, but also need to take notes and make blog entries while standing.
The ABS housing won't break easily and the elastic band wraps just firmly enough around the back of the hand, so the fingers rest comfortably on an upraised area for stability. The handle revolves for vertical or horizontal viewing. $49 on Amazon.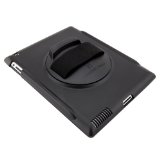 2. The RingO Mounting System – If Dad complains that the iPad is great but it's always hogging valuable counter space, or thrown around the car, Vogel's makes a system called the Ringo that can be used as a protective holder, a wall mount (for the kitchen, gym, or workroom), a table stand like a photo frame, and for the back of the seat for backseat viewing. The key here is a hole in the back of the protective casing that then allows for different modular attachments, whether to a semi-permanent attachment that screws into the wall or a special vice-like grip that holds onto the bars of the car headrest.
The RingO is a simple idea that really fits a lot of the way the iPad is actually used when it's not in your lap. $119 on Amazon, or less for fewer functions.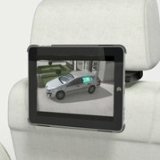 3. MountMe Freedom II – Another good mounting device is the MountMe II, which uses 4 extra-strength suction cups, but also has screws for more permanent attachments.
This set is less expensive at $49.99 and available at www.mountme.com.

4.
Booqpad
– We think this is so obvious that we're surprised there aren't dozens of these on the market. It's only natural if you're going to put your iPad in a notebook style holder that you might want to be able to slip in a pad of paper or a place for biz cards. The booqpad (no capitalization) has a spot for pen or stylus, notepad, and cards. Only fits iPad 2 unfortunately.
$50 at Amazon.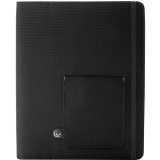 5.
Fling game controller
for iPad (Ten One Design) – This funny little plastic thing with its tiny suction cups gives iPad game players extra control while playing games like Doodle Jump, or any game that requires lots of tapping.
$19.99 at Amazon.
For real gamers, you might even pair it with the aluminum JOYSTICK-IT iPad Arcade Stick.