You've got to love the iGrill for iPhone. It has such a silly name, you'd expect it to be sold on Saturday Night Live. However, the jokes about i- things are passé. We are now into an era where stuff can be made that adds value simply by harnessing the power of the iPhone as computer in your pocket. The iGrill is one of those products that would have been a joke a few years ago, but is now a very powerful device for the serious griller.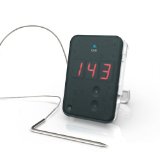 I love this video starring Chris Allen, one of the inventors of iGrill. He's so earnest and truly cares about making sure this product fits your needs. If you can't get to the video, the principle of iGrill is easy. It's basically a meat thermometer connected to a Bluetooth relay box that sends a signal to you anywhere in a 200 ft. radius. The app on the iPhone does the rest.

Let's talk about the iGrill hardware first. The iGrill comes in a white or black box, a bit larger than a set of playing cards. There are headphone like jacks on two sides to accept thermometer probes. The front of the iGrill is very clean with an on/off button and a + and – button for setting the temperature alarm. The iGrill functions as a meat thermometer even if you don't use the Bluetooth and iPhone app connectivity. The box takes four AA batteries (included).
The fun for techie grilling dads who like to show off their gadget prowess comes with the iGrill apps and Bluetooth connectivity. There are two iPhone apps. One has a black icon and is very basic, focusing on temperature alone. The other, shown as a white icon, has the temperature monitoring, but includes a lot more information, including tips, recipes and cooking guidelines. At some point, I would imagine the simpler app will go away, but it may be more straightforward for some users. Both make monitoring food temperature easy.
Here are some observations from our first cooking experience. Watching the temperature gauge while cooking a few steaks was a fascinating process. We watched the temp move slowly and then really jump in the last few seconds and had to react fast when the steaks were done. It seemed like the iGrill suggested leaving the steaks in about a minute longer than I would usually have done, but the steaks came out perfectly medium rare. I'm glad I didn't have to sprint from 200 feet away to rescue them when they hit the magic point however.
Between our first and second attempt, I migrated to the new iPhone 4s and had to pair the new iGrill (migrating phones requires re-entering a ton of data I found, including car Bluetooth codes and many app passwords). This is where I ran into some problems. The iGrill is only meant to be paired with one device at a time, so the site covers that issue in many videos. The iGrill requires you to reset the device's Bluetooth settings if you switch phones or want to use the iPad.
If you read my Griffin Beacon review, you'll know that I'm no stranger to Bluetooth connectivity issues. They can be a challenge and the iGrill put me through my paces. However, iGrill customer service is the most responsive product service I've ever seen. They answer email questions literally within minutes and with a few ideas on their part –the trick finally was to take the batteries out for 15 seconds — I was able to re-sync the iGrill with the new iPhone. Customer service was equally responsive when I found I had gotten a bad thermometer probe. They sent one out immediately, without even knowing that I was writing a review.
The iGrill is a fun toy for grillers and I will be taking it out, especially for thicker pieces of meat with longer grilling times. The iGrill would also make a great thermometer for candy and chocolate makers, though tests have not yet been done to see if the probes could withstand that exposure.
Expect more from the maker, iDevices, a Hartford-based company. They invented this product themselves, but are in business to help other inventors bring iPhonef-friendly hardware devices successfully to market. This is a fun first entry for them and you have to cheer on inventor Chris Allen, featured in all the videos, for his homespun charm and interest in making every iGrill chef a happy iGrill user.
GreatDad.com Review Policy: The featured product for this review was provided to us, at no cost, by the manufacturer or representing PR agency for the sole purpose of product testing. We do not accept monetary compensation for reviewing or writing about products. We only review products that we have personally tested and used in our own homes, and all opinions expressed are our own.