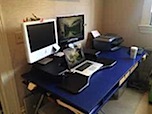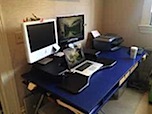 Standing at your desk is supposed to be super-good for you. That's why I was anxious to review this new standing desk.
You've read the studies. Standing at your desk is supposed to increase energy and focus, and the health benefits appear indisputable. This is a change we all should make. Some say that white collar sitting jobs will be considered the smoking of this era given how much we'll learn about how bad daytime sedentary habits are even if combined with off-hours aerobic activity. Those of us who hate the gym may just find that it's better to stand all day than to pack in those every other day sessions in sweaty room.
As our short video shows, setting up the Pro Plus is dead simple. Literally within 5 minutes of opening the box, you'll have your monitor up and will be trying it out. Raising and lowering the desk is a snap and you can easily set the height so your arms are at that all important 90 degree elbow position to avoid carpal tunnel. I am standing and typing this feeling the fat burn away even as I tone my abs!
As I said, setting up was simple, though you should be aware that the desk weighs 35 lbs and ideally, you should have a second person help you hoist it onto your current desk. It's certainly doable with one person, but the desk is a little unwieldly and I did have a sudden flash of fear that it would be easy to lose a finger (or five) if the desk suddenly opened or close while my hands were inside. Do be aware that this could be a risk if you have small children who play around your desk. The hinges are not covered.
On the flip-side, users may need to experiment a bit for the ideal setup. For example, right now, I am typing on my laptop keyboard and looking down at my screen. While my arms are in a good position, I can feel my neck strain. Ideally, I would either have a separate keyboard and place my laptop on the higher shelf, or use the laptop keyboard on the lower shelf while only viewing a monitor on the higher shelf. Both require more hardware. Since I use a separate monitor now, I'll have to play with this to see what makes sense.
Additionally, my wife immediately commented that the Varidesk is not an "elegant" solution. I doubt if anyone buys a standup desk to clean up their office or for design reasons (though Herman-Miller does have a nice one). Clearly a built in standing desk would be cleaner and take up less room. However, it would only be a stand-up desk and I'd need a second desk if I wanted to work sitting down. The Varidesk's promise is that you can have it both ways.
I'm excited to give this a longer trial. If you've had more experience and recommendations, please let us know in the comments.
UPDATE 2 MONTHS LATER
The Varidesk has been very good for getting me standing during the day. There are definitely tasks where it makes sense to be standing while you're doing them. In fact, I"m standing now. On the other hand, you discover that you want to be sitting for longer more contemplative projects and organize your day accordingly. I also find that I want to set Pandora to more exciting music when I'm at standing position and often find myself dancing a bit more than appropriate in the office, something I would be less likely do do while sitting.
I've read other reviews that say some folks have trouble standing for a long time and need to really limit their time out of the chair. I find myself often skipping my sitting time if I'm in a dancing "flow," and I'd be worried if fatigue was forcing me off my feet. But I guess that's the stamina you're hoping to build while using a standing desk.
I've also been using the Varidesk app. It's a good idea since it only reminds you to sit and stand at your chosen rhythm (every 30 minutes for me). However, the app stinks. Without any determined pattern, I appears to delete my time standing/standing calories whenever I skip a standing or sitting period. Too bad.
GreatDad.com Review Policy: The featured product for this review was provided to us, at no cost, by the manufacturer or representing PR agency for the sole purpose of product testing. We do not accept monetary compensation for reviewing or writing about products. We only review products that we have personally tested and used in our own homes, and all opinions expressed are our own.