If you haven't found a father's day gift yet for dad, here are few suggestions you can still get on-line that he might enjoy for father's day.
Better yet, have the kids draw up a big poster and serve him breakfast in bed. Presents are over-rated, though Bill Cosby said part of being a dad is pretending that soap-on-a-rope is the best present ever.
1. "Bushnell Powerview 12×25 Compact Folding Roof Prism Binocular (Black)" (Bushnell)
With slightly more magnification (12X versus the usual 10X) in a compact package, these are good portable binoculars for travel and sporting events. At around $20, this is a great little binocular.
2.. Belkin conserve – Here's gift ideas for dads trying to make all those subtle changes to our lives that conserve energy. By now, everyone has heard that a lot of energy is wasted on all those devices that sit drinking up juice while in "stand-by" mode. This power strip allows you to really turn off six of its eight outlets using a tiny remote control (you can glue it to the wall – I think it's mostly there to save you the energy of bending down to the wall outlet). Two plugs are left unswitched so you can keep the DVR or VCR (does anyone have those now?) on while you're out or away.
3..We love the Swiss Tech key tool. It folds into a keylike object that fits unobstrusively on a key ring. It doesn't take any space, looks just like a key, yet has so many features that any boy scout, pre-adolescent or middle-aged will be pleased. In a small space, you have a phillips and regular screwdriver, a bottle opener, a knife, and a file. Sure, you wouldn't want to use these tools to renovate your kitchen, but like any pocket knife, all that stuff comes in handy often enough to be glad you've got it. My wife and I both have one and never travel without it. In polished stainless steel A bit pricey at $19.99, but worth every penny.
Swiss Tech 6-in-1 Key Multi-Tool
4. If you have a daughter, it's hard not to get a little emotional reading this collection of anecdotes compiled by Gregory Lang (author of more pithy books like "Why a daughter Needs a Dad: 100 reasons"). This is not a "deep" book, but it does get at a lot important truths about the importance of a father to little (and big) girls. Sometimes, that's also what dads need to give an extra push to their efforts. We all need to know that all those hours pushing swings and replacing toy batteries are the foundation of an enduring relationship that doesn't end suddenly at adolescence. There has been plenty of research that shows this to be true, but Mr. Lang, in this compilation of his own and others' stories relates how this plays out in different ways. For the dad of a young girl, it also gives a not-always-comfortable (read morbid) look into the future when kids are grown up and dad is looking at what he's leaving behind as a legacy rather than what he is building in the here and now.
Daddy's Little Girl: Stories of the Special Bond Between Fathers and Daughters by Gregory E. Lang
5. Hometown Map Jigsaw Puzzle – Centered On Your Home
From the New York Times store, this unique, made-to-order jigsaw puzzle features a map that centers on your home. The map, an extract from the renowned U.S. Geological Survey, has fascinating details and provides names of main roads, contour lines, transport infrastructure, water features, vegetation, and shows notable buildings/structures. Personalized for $44.95
6. Permission to buy a video game console. It now seems univerally permissable to add a Wii from Nintendo to the family entertainment options. Either dad already has one or he's waiting for you to say it's okay to let one in the house. Now with the addition of Wii Fit, even mom's can rationalize getting in a round of Mario Tennis before dinner. Unfortunately, if you don't have a strategy, it's still impossible to walk into a store and buy one of these. You'll either have to scope out deliveries at your local electronics store or plan to pay $100 over the MSRP to buy one online. We have found no other real options other than signing up for S the "now in stock" Google group at NowInStockWiis | Google Groupsand hoping you'll get lucky very quickly in time for Dad's day.
6. For the beer lover, the
, a countertop "kegerator" frot he 5 liter minikegs of Heineken beer. The tap keeps the beer at 39°. Beer keeps 30 days according to 30 day freshness counter. Attention: meant only to be used with Heineken mini-kegs.
7. Time to get a new family digital camera. We've had great luck with our little Panasonic Lumix D9 with it's Leica lens. Now Panasonic has a new model that shoots at 9MP (far more than mortals actually need), but also sports HD output. The optical stablization is top notch and it has a 10X zoom. $350.
"Panasonic Lumix DMC-TZ5K 9MP Digital Camera with 10x Wide Angle MEGA Optical Image Stabilized Zoom
8. You may have read an article in the New York Times on carbonated beverages at home that covers the options out there. Some of these machines cost up to $2600. I can't say the Club Soda version is the hottest design, and maybe even it's bubbles aren't as "delicate" as others (could that even be true?), but it worked well enough for our kids and makes a pretty good Pelligrino/Perrier stand-in. The Penguin is significantly more expensive at $249.99 versus the regular machine at only $79.99. Both are available at SodaClubUSA.com. Either way, both should pay for themselves in a fairly short amount of time, and also cut down massively on throw-away bottles. The starter kits come with two reusable bottles. The machine takes no added batteries or power, but does require a refill of the CO2 cartridge ($19.99) about every 110 bottles.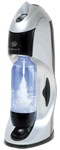 Best of luck finding a great Father's Day. Some times the best gift is a handmade card from the kids and a little break from the chores he hates the most. Take that from a dad who will want to spend most of "his" day napping on the couch.