Gas up the wagon and drive to a shady picnic table where the whole family can play Road Trip, a new game from Daddy-O Productions. Packaged in a playful tin box, this is a fun game for kids 7 and up and their parents.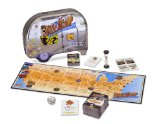 You don't have to be on the road to play Road Trip. If fact, this is not a game for the car. However, I brought it along on a family weekend and we enjoyed the game over a rest stop lunch. The game is simple. Each player is trying to move a little colored car across the United States from West to East Coast. Players advance by attempting "challenges" that test their vocabulary and imagination. Players fill in statements like the following after rolling a multi-faceted die to choose a letter: "After dinner, we took a (NOUN), to help us (VERB) before we went to the (PLACE). This is easy if you draw an S, but more difficult with a Q or X. Other questions require players to list things (ex. three parts of a car) that begin with the chosen letter. A very short egg timer keeps the game moving at a breakneck speed.
We all had a lot of laughs playing this game, especially my 7 year old who loved the idea of sticking funny words in as nouns and verbs and still making the sentences work, a bit like MadLibs. My wife, stuck on some word combo beginning with "S" blurted out a swear word which had the kids howling. I had to laugh as well; just glad that it hadn't been my 11 year old who said it.
There are improvements I'd like to see with this game. The die always seemed to land on K, at least when I had it and we all felt it was oddly weighted (Note: the game's maker says this is due to unavoidable manufacturing inconsistencies with a multisided die of this type). The Challenge cards also only have two themes (the sentence and the list), which get a bit old with multiple plays. The tin case is a fun novelty and jumps off the shelf but it does make for awkward stacking on the game shelf. It's a small thing, but important to the guy who is always nagging at kids or picking up toys before mom gets home to yell about the mess!
Road Trip is a fun game for readers of all ages, and a fun game for lazy summer days when you can't jump in the camper and head out on the open road.
GreatDad.com Review Policy: The featured product for this review was provided to us, at no cost, by the manufacturer or representing PR agency for the sole purpose of product testing. We do not accept monetary compensation for reviewing or writing about products. We only review products that we have personally tested and used in our own homes, and all opinions expressed are our own.