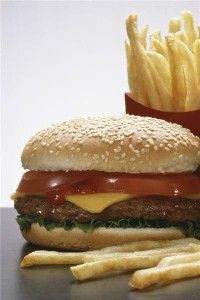 Moms and dads who are looking to instill healthier eating habits may have just found a new ally – the Federal government. New guidelines revealed by the Agriculture Department limit the amount of times per week that school cafeterias can offer french fries to students, in addition to changing several other long-standing practices, The Associated Press reports.
Along with cutting back on fries, schools will also have to serve more whole grain foods, offer only low-fat milk and implement a ban on most trans fats. The move is one of the most significant nutritional overhauls in public schools, and could effect as many as 32 million children across the country
"The United States is facing an obesity epidemic and the crisis of poor diets threatens the future of our children and our nation," agriculture secretary Tom Vilsack told the news source.
While the schools are set to do their part, it is up to parents to take the lead at home when it comes to eating healthy. Many experts suggest that sitting down to family meals is one of the best ways to instill good nutritional habits.