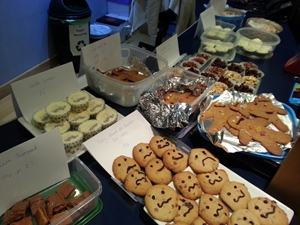 Many parents hope that their children don't just excel in personal, academic and athletic pursuits, but become contributing and concerned members of society as well. A great way to encourage your children to help others is by organizing fundraisers and charity events at their school. Here are a few beneficial community events to consider planning with your little ones.
Bake sale
Good intentions and delicious snacks come together in school bake sales, which are fun and easy events for raising money forworthy causes. Whether you're trying to provide relief for a local homeless shelter, fund a school sports program or finance new playground equipment, grab some cookie dough and pass out flyers to get your bake sale off on the right foot.
Car wash
A charity car wash trades the delicious goodies of a bake sale for watery fun, making it a perfect spring and summer fundraising event. With a few bottles of soap, plenty of wash ragsand a few trusty water hoses, the kids can have a blast soaping down cars and spraying each other while providing a much-appreciated community service.
School raffle
Offering exclusive prizes is another great way to collect charitable donations from families at your kids'school, so consider hosting a raffle. By encouraging students and their parents to purchase tickets for the chance to win school supplies, toys and other fun trinkets, you can come up with a simple plan for benefiting a good cause.