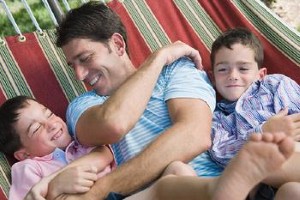 Fathers may have to approach teaching a certain skill to their autistic son or daughter in a different manner, according to new research from the Kennedy Krieger Institute and Johns Hopkins University School of Medicine.
The study, published in the journal Nature Neuroscience, suggests that autistic children learn new skill sets slightly differently than typical children.
In short, children with special needs took into account their body position as opposed to the visual information they were receiving from a father or educator.
"If the way their brain is wired is not allowing them to rely as much as typically developing children on external visual cues to guide behavior, they may have difficulty learning how to interact with other people and interpret the nature of other people's actions," said Dr Reza Shadmehr, senior study author and professor of biomedical engineering and neuroscience at John Hopkins.
For fathers who are raising an autistic child, this new study offers a chance to improve their parenting skills when attempting to teach their son or daughter something new.
After a diagnosis of autism, it's important for parents to find out where on the behavioral spectrum their child falls. The spectrum includes children who are severely autistic to ones who can interact with others socially.
It's then necessary to pay attention to a child's behavior. This can be done easily by attempting to teach something simple like waving goodbye. If you are in front of your child and waving, he or she may imitate you by waving, but with the palm of their hand facing them.
Behaviorists in the industry say this is because the child sees your palm and thinks they should see theirs. To combat this, temporarily invert your hand so you are looking at your palm and see if your child changes their behavior.
Once they get the hang of it, you can start phasing out your inverted hand.