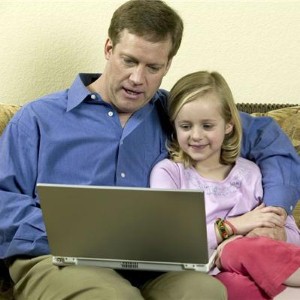 More children and teenagers today are embracing social media, which entails such sites as Facebook, Twitter and various programs that allow users to instant message each other through the computer.
While the new technology has done wonders in terms of communication, it has turned into a new issue that fathers should be aware of in terms of keeping their children safe online.
Because of this, fathers are encouraged to use their parenting skills when talking to their child about social media and how to behave online. To be more effective, fathers should try out the social media platforms themselves, so they get an idea of how the technology works and maybe gain some insight into why their son or daughters enjoys using a site like Facebook so much.
Some online security experts have suggested teenagers not share personal information with strangers online or post any embarrassing pictures.
Fathers are also urged to talk about cyberbullying and that a child should conduct him or herself in the same manner they would in the school playground or in person with their friends.