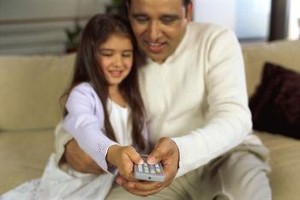 New research has emerged that may offer a clue as to how stereotypes of certain groups of people are formed, possibly giving fathers insight as to how to use their parenting skills to educate their children.
The study, which was published in the Journal of Consumer Research, looked at how children made conclusions based on a person's appearance and the products associated with them.
For example, a well-dressed woman wearing lots of jewelry and talking on an iPhone may conjure up a certain stereotype for some adults. The researchers wanted to see at what age children would make similar conclusions.
Children in the study were given "a set of diverse products" and asked to match them with a "particular social role."
The study revealed that children as young as five were able to form assumptions of social roles based on certain products. However, this was found to be more defined in older children.
"Early adolescents appear to have a more myopic view of social roles," the study authors said. "They will say things like 'All cool kids wear Adidas and Abercrombie & Fitch. They are also loud, have a lot of friends, and play sports.'"
Fathers interested in helping their children avoid developing unhealthy stereotypes may want to use their parenting skills to openly communicate about the images they may see on television or in the movies.
While some fathers may be quick to curtail or even ban such shows or films the perpetuate stereotypes, there may be another way. Using the television medium as a way to educate kids can be helpful.
Consider looking for shows or films that break stereotypes. One example could be the 2000 film Keeping the Faith with Edward Norton and Ben Stiller, which covered topics like religion and race in a tasteful manner.
Watching such shows as a family can also help foster the conversation later about stereotypes and what they mean.