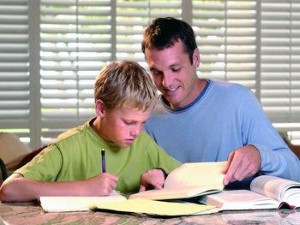 New research from a national organization has found that fathers are more involved in their child's education than they were a decade ago.
The National Center for Fathering and National Parent Teacher Association released the results of a new report prior to the 100th anniversary of Father's Day.
The Survey of Father's Involvement in Children's Learning presented a double-digit gain in the percentage of dads taking their child to school, attending class events and visiting their child's classroom.
However, the report also revealed some areas fathers said they "never" do, such as volunteer at their child's school and reading to their child.
Past studies have shown fathers who use their parenting skills to read to their child can greatly influence the development of their son or daughter.
Fathers Reading Every Day (FRED) is a program developed by an educational agency at Texas A&M that is designed to encourage a father's involvement in a child's literacy development.
The program is named after Fred Bourland who read to all three of his daughters and believes it led to them having more enriched intellectual lives.