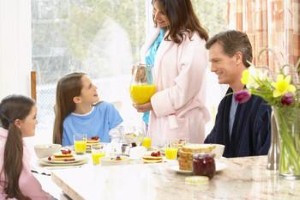 According to a study in the UK, childhood obesity may be tied to the relationships and actions of a parent, as opposed to genetics.
The research was published in the July 13 issue of the International Journal of Obesity and found that sons of fathers who are clinically obese have an increased chance of struggling with weight problems compared to sons whose fathers are not obese.
Though the same weight issue existed in the daughter-mother relationship, it failed to appear with sons and their mothers or with daughters and their fathers.
"Any genetic link between obese parents and their children would be indiscriminate of gender," said study director Terry Wilkin. "The clearly defined gender-assortative pattern which our research has uncovered is an exciting one because it points towards behavioral factors at work in childhood obesity."
Because of the behavioral factors mentioned by Wilkin, the study suggests that if fathers use their parenting skills to alter or completely change their eating habits, they may positively affect the health of their child.
Changing one's diet is not easy and should be approached carefully and done in baby steps. Consider substituting one aspect of your diet instead of abruptly shifting gears. One way is to replace white rice with brown rice or white bread with wheat, both of which are healthier alternatives.
The next step may be to curtail the amount of soft drinks one consumes and instead pour glasses of water. Drinking more water has been shown to help people lose weight and lead healthier lives.
Also consider having the family get into the routine of taking one multi-vitamin a day. There are children's versions of vitamins sold in grocery stores.
Finally, and this may be the hardest to implement, fewer visits to the local fast food restaurant will help as well. Again, do this gradually. McDonalds now has healthy choices on its menu such as Apple Dippers instead of French fries.