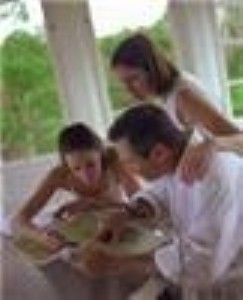 Fathers who opt to play board games with their children on a Friday night may not only save money, but create a strong bonding experience as well.
Gail DeGiulio, the founder and "chief funster" of SimplyFun, says her company experienced a rise in sales of board games when compared to last year's figures, which is something she attributes to the recession and more families choosing to stay home.
"Families are taking this opportunity to revisit their priorities and to get back to the basics, devoting valuable time to the relationships that are most important to them, right now," DeGiulio said. "Life's most important moments come about when we play with our loved ones."
This can also be an ideal economical substitute for going to the movies or out to dinner, which can cost families upwards of $75.
Instead, board games can costs less than half of an evening out and possibly provide a father and his kids a lot more fun.
However, fathers should employ their parenting skills when picking a game to play with his kids. Games that take too long can sour a child's experience with board game night and may prevent them from wanting to play such games again.