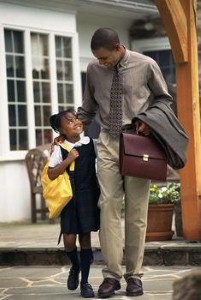 Many fathers have taken advantage of the current economic climate as an opportunity to teach their children about the benefits of thriftiness.
This includes taking time to clip out coupons and making informed choices at the grocery store. Fathers who do this can cut their food-shopping bill in half and use the money for something else.
One option for fathers is to place the extra money into a bank account, allowing their kids to know that saving money on shopping can yield other things in the future.
Fathers with creative parenting skills can turn the money-saving process into a game. After explaining how much money was saved from the coupons, take the extra funds and place them in a jar with a picture of a toy or a game the child wants. Then tell your son or daughter that if enough money is saved, they can purchase the toy with the savings.
Another option is to use a new feature on the ING Direct website. The online banking institution recently launched Planet Orange, an interactive game that involves space missions. The game is designed for younger children and has players explore various planets where they must earn enough money to fuel their ship for future adventures.