Dispose-It-Guard Disposal Guard is the best thing ever and it's one of those items you can't believe no one has invented before. Simple, simple tool, blocks disposal drain for everyday use, and when you want to throw stuff down the disposal, you lift it out or move it to the side. You can use the long part to push food into the disposal, rather than getting your fingers into it, or to push down long pieces of melon rind or grapefruits. Other disposal covers we've used meant you had to stick your fingers on some gooey handle; this one, though it could be longer, is raised about an inch so it's not always covered with slime. With other covers, too, you'd have to move them aside to let water in, and inevitably water filled with debris would spray up out of the drain. This tool has holes in the cover, so water doesn't spray up.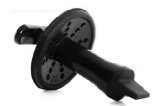 I don't know if this qualifies as a Fathers Day gift idea or not, but it would sure top my list if I didn't have one.
Dispose-it-Guard is $13.95 on Amazon.
GreatDad.com Review Policy: The featured product for this review was provided to us, at no cost, by the manufacturer or representing PR agency for the sole purpose of product testing. We do not accept monetary compensation for reviewing or writing about products. We only review products that we have personally tested and used in our own homes, and all opinions expressed are our own.