This is a very simple lock for home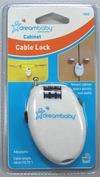 safety, especially for things that need just a little extra security, such as the liquor cabinet or the medicine chest. It obviously won't stop a determined thief, but can not be opened without obvious signs of tampering, making it good for kid- or nanny-proofing small doors or even a suitcase or a bag temporarily. The MSRP is $9.95, but only sold at the present time for $19.95 at Shop4Kids.com.
Dream Baby has other inexpensive security devices that make baby-proofing an easier chore.