So tonight, my kids helped me cut off my mustache and they are glad to have their dad back again. I just turned 54, so the facial hair that gets you into bars when you're 19, is not what you want to make you look older when you are, in fact, older.
But the family had fun with the process since they can't remember the last time I grew my beard out, which about 2004. A friend of mind didn't' recognize me at my local coffee store, so I guess I know what to do if I ever need to really go incognito. I might opt for Groucho glasses instead though since the scratch/itchy thing is for the bird.
Bald faced plug: the Dad 2.0 team has already reached over $17,000, but it's not too late if you want to help out the cause. 33,000 men will die of prostate cancer and the nearly 8,300 men who will be diagnosed with testicular cancer this year. Several important men in my life have died of cancer in the last few years, at least one because he didn't go for an exam when he had serious symptoms. I'm doing this to raise awareness of men's health.
If you can, take a moment to support the cause at http://mobro.co/GreatDad. Even $5 is helpful!
Philips Norelco is matching $15,000 for our team so they deserve some thanks and credit. They sent me the shaver you'll see in the video I'll post tomorrow (gotta do that whole YouTube uploading thing). They did ask us to let everyone know that there is currently a $30 holiday rebate underway for the
SensoTouch shaver: http://www.upgradeyourshave.com/?origin=|mckv|sIL5aiqBI&pcrid=8513465214|plid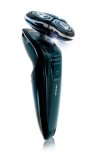 It's usually $199, so that's a nice saving if you have another Movember sufferer in the house who is keeping the 'stash until 12/25.
GreatDad.com Review Policy: The featured product for this review was provided to us, at no cost, by the manufacturer or representing PR agency for the sole purpose of product testing. We do not accept monetary compensation for reviewing or writing about products. We only review products that we have personally tested and used in our own homes, and all opinions expressed are our own.