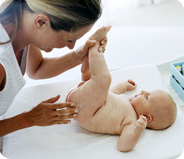 Can you eat your way to pregnancy? In 2007, publication of landmark findings from the Nurses' Health Study in association with the Harvard School of Public Health revealed strong statistical support for certain links between diet and fertility, after collecting data for eight years from over 18,000 women.
Avoid "trans fats," which are unsaturated fatty acids, found in some margarines, in fats used in deep frying and pastry doughs and in products containing 'partially hydrogenated oil' on the ingredient list (foods like deep-fried fast foods and takeaways, packaged biscuits, cakes and pies) – as little as 4.5 grams a day is thought to raise testosterone levels in women, reducing fertility
Use more unsaturated vegetable oils, which improve insulin response. Nuts, seeds, and cold water fish like salmon and sardines are also good for improving insulin response.
Increase vegetable protein – like beans, peas, soybeans or tofu – to replace some of the protein you would otherwise get from meat
Choose fibre-rich slowly digested carbohydrates such as whole fruits, whole grains and vegetables
Drink whole milk rather than skim milk – or aim for a daily serve of full-fat yoghurt
Boost your folic acid intake to 400 micrograms a day – and take a multi-vitamin
Get extra plant-based iron from whole-grain cereals, spinach, beans, pumpkin and tomatoes
Reduce your coffee intake and alcohol intake to one a day each – and skip sugary soft-drinks. Drink lots of water.
Increasing Vitamin E and zinc for men may improve sperm health