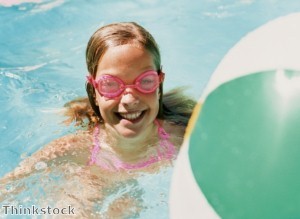 To many of us, the summer months bring a time to relax, enjoy a few long weekends, and get outdoors for some leisurely activities. But for some teenagers, the season means it's time to stress out over an upcoming pool party.
Adolescents see the annual pool party as the veritable Who's Who of the middle school and early high school years. For them, these gatherings appear as a chance to get together for some fun when school is out, spend some time frolicking in the sun and perhaps sneak away for a few stealthy rounds of spin the bottle.
However to fathers, summertime pool parties can look less like a romanticized Jonas Brothers music video and more like an agitating mixture of hormones, braces and budding libidos.
If your house is the location for the biggest event of the summer for a group of 13-year-olds, you've taken on a tall order. What seems like good parenting to you can seem like a social disaster to the young lad or lady in the house.
Prepare yourself for the much-anticipated bash by keeping a few things in mind.
1.) You may be from the era of the itsy-bitsy, teeny-weeny, yellow polka dot bikini, but that doesn't make you more risqué than the newest generation of pool partiers. Prepare yourself, take deep breaths, and keep the smelling salts on hand.
2.) Teenage girls will show up to your house caked in makeup, while the boys' hair will be cemented in a casing of gel – even though they're just going to jump in the pool. Make sure your pool's filters can handle the job they're in for.
3.) Kids want their parents to plan the party – not be part of it. Cannon balls, Speedos, trips on the Slip N' Slide and a healthy supply of daiquiris are only going to embarrass your poolside princes and princesses. Put them on hold – at least until the kids leave.