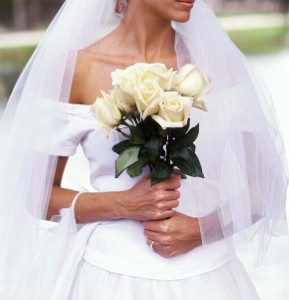 It's the job of a father to be resourceful and practical when meeting the challenges of the modern household. From yardwork to hygiene to manning the grill, today's dads are expected to have a solution for everything.
When the wife of the Tucson, Arizona, father Kevin Cotter left him after a 12-year marriage, she stranded behind one item that has helped Cotter get through the divorce and complete some chores along the way: her wedding dress.
According to Cotter's blog, while walking out the door, the Tucson man's ex-wife informed him that he could do "whatever the f*** he wanted" with her nuptial gown. Cotter took his cue to compile a list of 101 uses for his ex-wife's wedding dress.
So far, the divorcee has used the gown as a scarecrow (complete with a Darth Vader mask), a grill cover, a pasta strainer, a soccer net, a bee keeper suit, a piñata, a Kleenex and an oil pan – and the list continues to grow.
"It's been a good distraction for me," Cotter told AOL News. "I'm working on it with my brother, and that time with him is good for me in terms of healing and being distracted and laughing."
While Cotter is still busy finding uses for his ex-wife's abandoned wedding dresses, we have a few recommendations of our own for the creative caretaker.
1.) A slingshot: A white, lacy wedding dress slingshot can help recently-divorced fathers have a little fun while ridding the house of any other articles the ex-wife may have left behind.
2.) A Halloween costume: If you're looking to freak out your friends and have everyone question your mental health, there is simply no better way.
3.) Bonfire: When the household chores are done, and you've successfully kept Ewoks out of your garden, it might be time to move on.