What I don't know about labyrinths could fit into many many websites. However, when I was younger I used to love to play the BRIO Labyrinth, which could eat up hours in pre-video game fun. I'd still recommend it on a coffee table to divert desultory visitors who need distractions during cocktails (or to occupy a teenage visitor who has to sit with adults).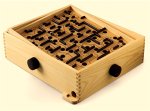 Now here are labyrinths of another type. Please chime in on what you know about this subject, but labyrinths date from Greek and Egyptian times and have been used in mythology, and later in the Christian church. They saw a full flowering in the 12 and 13th centuries, most notably in grand pavement labyrinths at gothic cathedrals like Chartres, Reims, and Amiens.
Wikipedia provides more information on the meanings of labyrinths:


Prehistoric labyrinths are believed to have served as traps for malevolent spirits or as defined paths for ritual dances. In medieval times, the labyrinth symbolized a hard path to God with a clearly defined center (God) and one entrance (birth).




Labyrinths can be thought of as symbolic forms of pilgrimage; people can walk the path, ascending toward salvation or enlightenment. Many people could not afford to travel to holy sites and lands, so labyrinths and prayer substituted for such travel. Later the religious significance of labyrinths faded, and they served primarily for entertainment, though recently their spiritual aspect has seen a resurgence.




Many newly-made labyrinths exist today, in churches and parks. Labyrinths are used by modern mystics to help achieve a contemplative state. Walking among the turnings, one loses track of direction and of the outside world, and thus quiets his mind. The result is a relaxed mental attitude, free of internal dialog. This is a form of meditation. Many people believe that meditation has health benefits as well as spiritual benefits.
There is a labyrinth locator available from the Labyrinth Society. This is a fun activity for the whole family. Less of a maze than programmed walked within borders, it can nonetheless provide focus for young brains and an alternate activity to other organized mayhem.
– Paul Banas